HSSE & ISPS
HSSE Policy

We shall conduct our business in compliance with legislative requirements and at the industry's highest Health, Safety and Environment standard.
We shall strive towards practices which will cause no harm to people, property and the environment.
Our objective is to Integrate Health, Safety and Environmental policy and regulatory requirements into our processes, services, products and investment decisions.
ISPS Code

Besides Health, Safety and Environment policies, security is also an important aspect of our business deliverables. The achievement of early ISPS certification demonstrates the shipyard's security preparedness and pro-action. Effective safeguards against security threats and risks to customers, employees, property, sensitive information and other assets, are in place to ensure timely response and business continuity.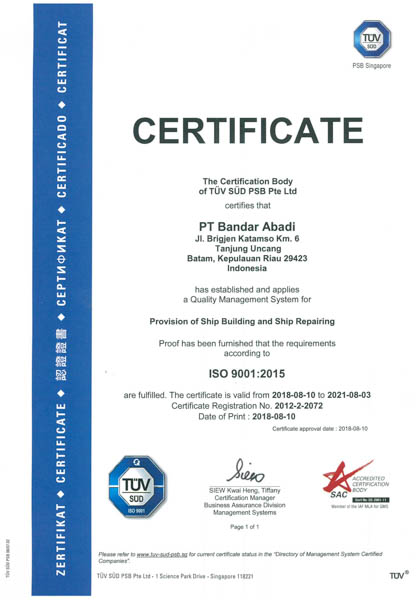 Certificate ISO 9001 ; 2015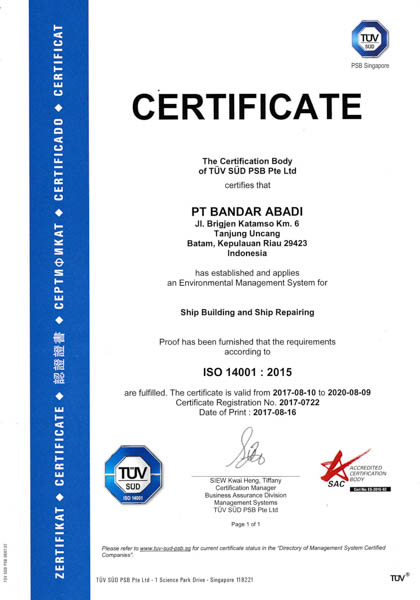 Certificate ISO 14001 ; 2015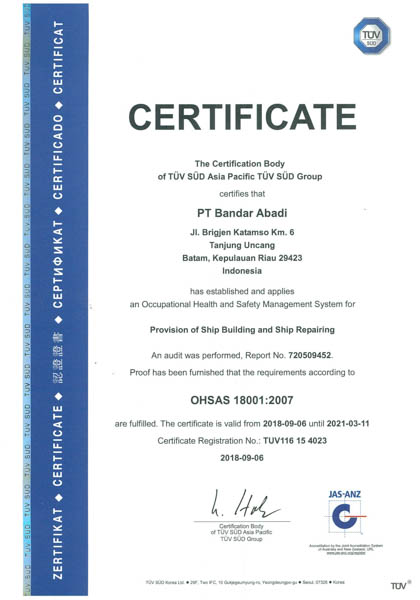 Certificate OHSAS 18001 ; 2007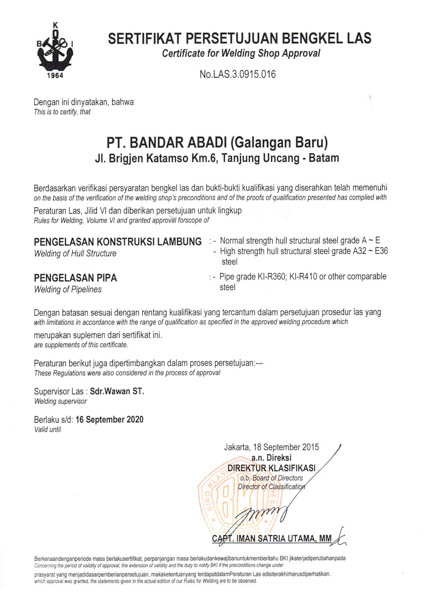 Certificate Class BKI Welding Shop Approval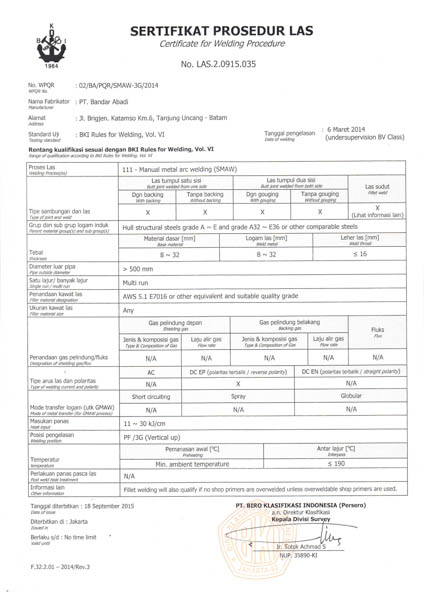 Certificate Class BKI WPS Grade A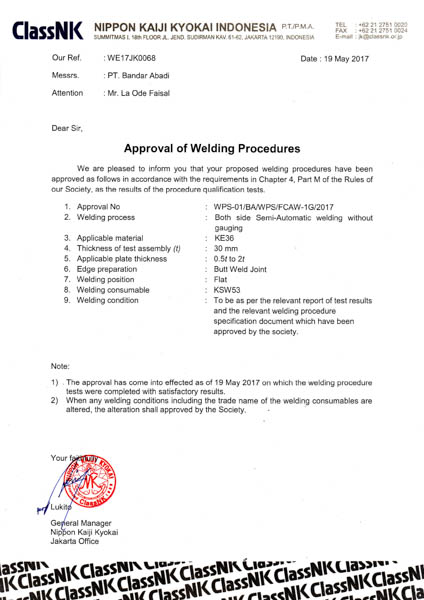 Certificate ClassNK WPS EH 36 High Tensile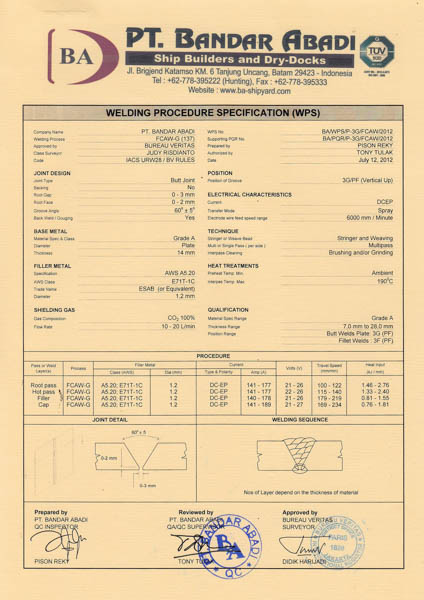 Certificate Class BV WPS Grade A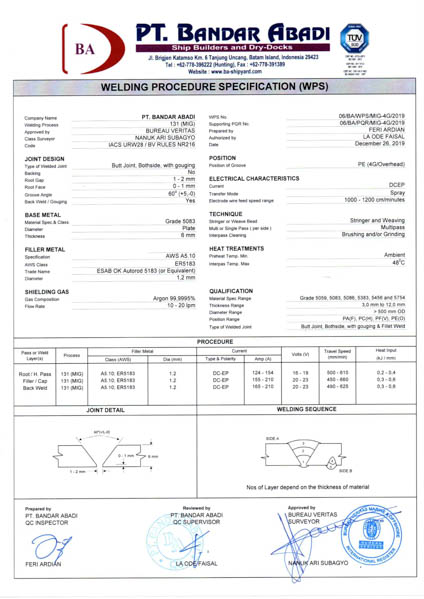 Certificate Class BV WPS Material Aluminium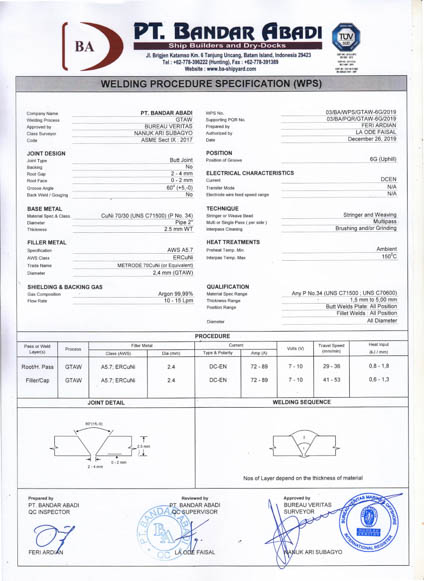 Certificate Class BV WPS MeterialCuNi Copper Pipe SS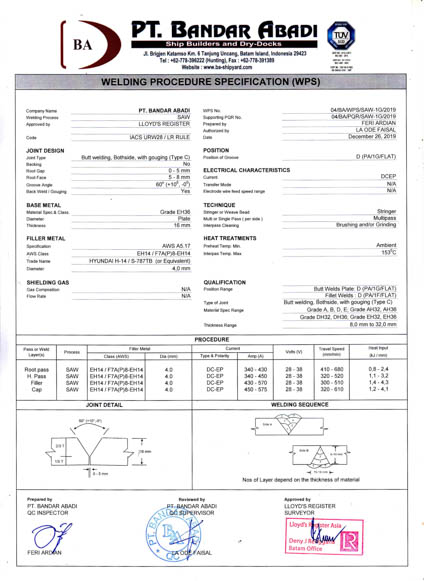 Certificate Class LR WPS EH 36 High Tensile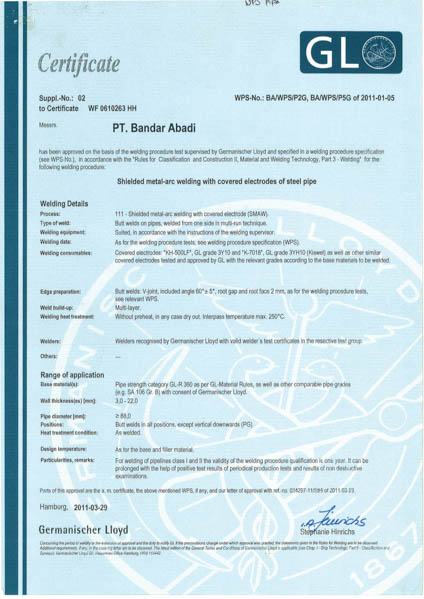 Certificate Class GL for Steel pipe welding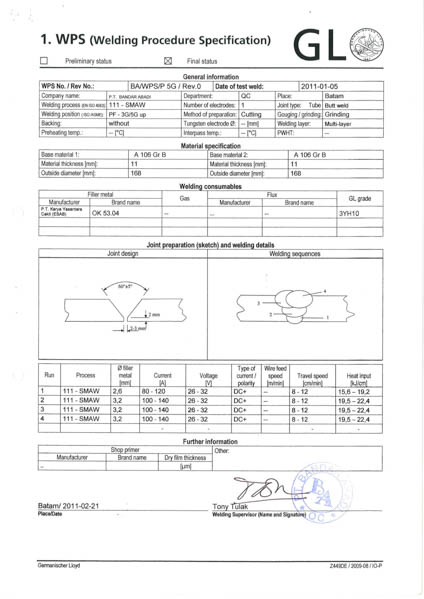 Certificate Class GL WPS Material Steel Pipe
Certificate ISPS Code (SOCPF)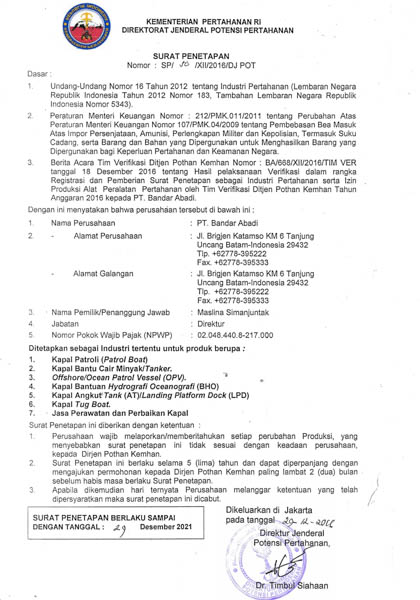 Certificate Ministry Defense
Certificate SKT Migas New Building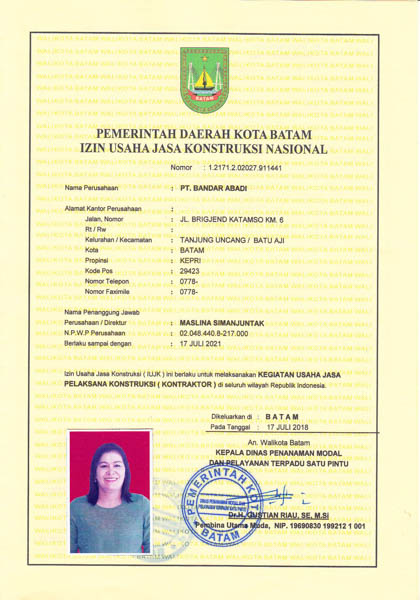 Certificate SIUJK
Certificate HSE AK3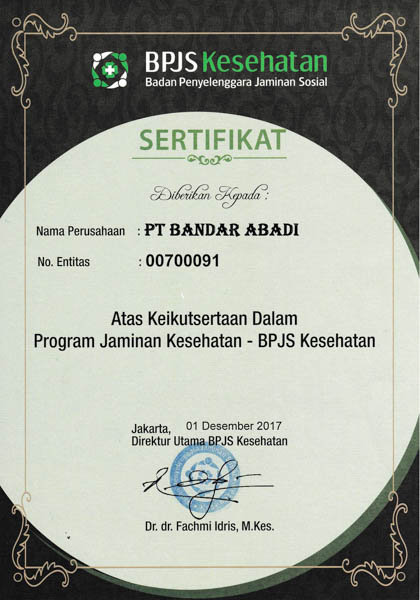 Certificate BPJS Participation
Certificate BSOA Association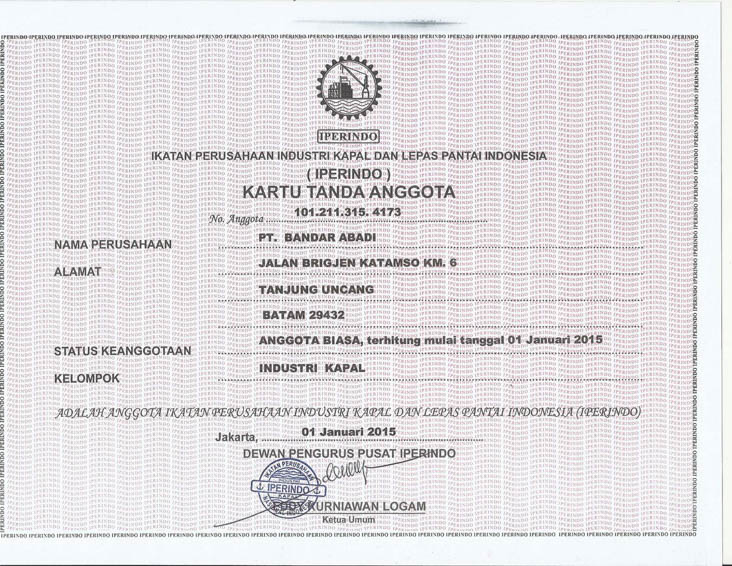 Certificate IPERINDO Association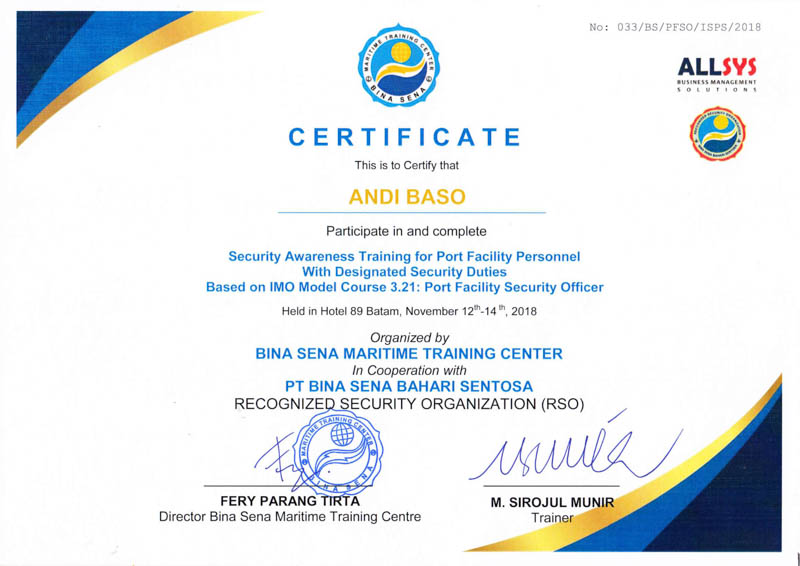 Certificate PFSO for ISPS Code
Certificate JAMSOSTEK Participation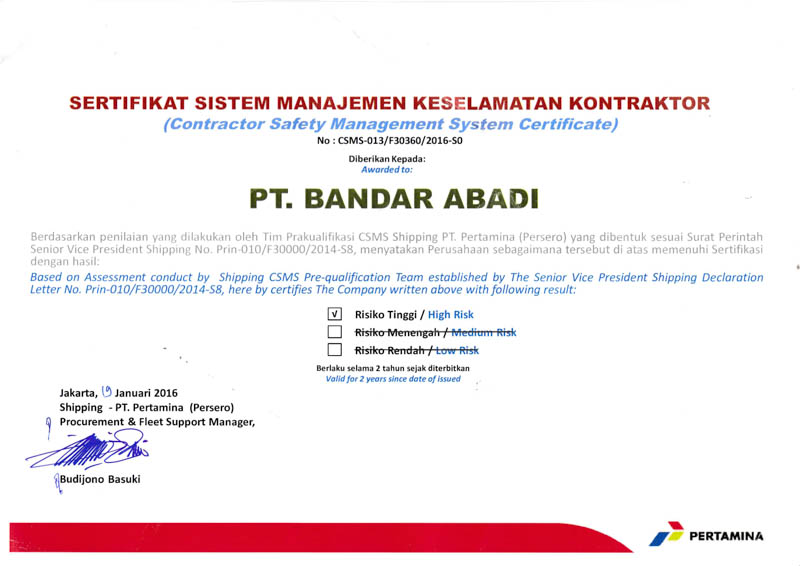 Certificate CSMS from Pertamina Shipping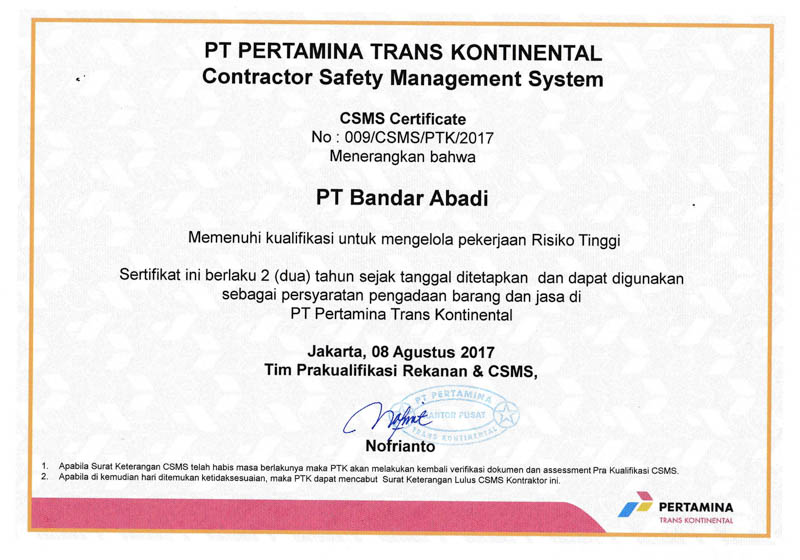 Certificate CSMS from Pertamina Trans Kontinental
Certificate CSMS from Elnusa