PT Bandar Abadi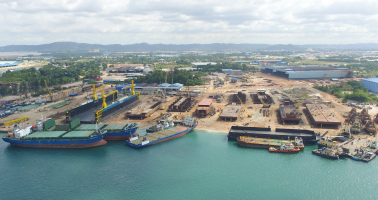 PT. Bandar Abadi was established for more than a decades experiencing on ship building, ship repairing, ship conversion and numerous steel fabrication works. Our company characterized by willingness to learn, to innovate and implement new ideas, technology, systems and processes ultimately to improve upon our service quality for the betterment of our customers.
Bandar Abadi practices policies and processes which go beyond customer satisfaction into developing long-term partnership and special relationships. These have gone far to bring us success with our customers. Our customers are our partners, whose goals we embrace as ours.
We strived to integrate the various aspects of vessels repair and ships building under one roof. Our services and products have been widely used domestically and internationally.
Our quality is recognized worldwide, and because we are producing in lower cost countries, we can remain competitive price but still retain top Shipyard quality.
With our Strong commitment to innovative solutions, HSSE (Health, Safety, Security and Environment), total reliability, timely deliveries and expert project management ensure that our reputation is trusted and valued by our international clients.
We ensure that every repair and ship building is completed on time without compromising on quality and service as well as to the satisfaction of customers.
Our Vision
We will be the leader in transforming our industry, providing innovative solutions for the success of our customers and in fulfilling the changing needs and aspirations of our people.
We will continue research into ship motion and fuel efficiency, reduces operating costs with reliable and proven technology that reduces downtime.
Our Mission
We want to be number one or at least in the top three in all of our niche markets in Ship repair, Ship Building and Ship Conversion that meets our clients standard and requirement.
We have continuously focused on the cost price of our products. Cost and quality are always utmost in our minds. Therefore we will also remain focuses on our activities in every niche and work to continually improve our products and quality to stay ahead of the rest.
"by providing total solution, bandar abadi services has great insight into operational costs and revenues which can help optimise uptime, which ultimately increases the clients profitability"