Facilities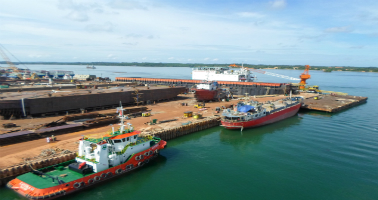 Bandar Abadi have concrete wharf for proper floating repairs, facilities workshops fully equipped with CNC Plasma Cutting machines, Auto shot blasting machine, sheltered fabrication area complete with overhead cranes and heavy transporter for material handling equipment to expedite our works and to serve our customers needs.
With our complete facilities, Bandar Abadi is your one stop service for ship repair and ship building that also offers quality products, cost effective service with well trained and experienced workmanships.
We have understood our customer's changing requirements and we provide them what they need if we are to retain leading position.
Facilities Workshop
Bandar Abadi provides auto shot blasting machine facilities that enable blasting and painting processes to be carried out simultaneously without being affected by weather conditions.
Workshops also equipped with complete units of CNC plasma cutting system for cutting plate thickness up to 200 mm, shearing machine and experience engineers to provide highly efficiency design and nesting.
Piping workshop provides facilities for CNC pipe bender and fabrication of heating coil, steam pipes and hydraulic pipes.
We have a load bank for load test of generator set and electrical troubleshooting include motor rewinding, boiler repair, etc.
Sheltered Fabrication and Heavy Transporter
Bandar Abadi provides sheltered fabrication workshop of more than 35,000 m2 equipped with various types of machineries and equipment to serve our client and to fulfill class standard requirement.
All workshops equips with Overhead cranes with a lifting capacity of 50 tons, and served by a 200 tons self-elevating multi-wheeler transporter for complex material handling within our workshop and from our sheltered fabrication area to our 380,000 m2 (38 hectares) open yard fabrication area.
Open Storage and Sheltered Stores
A total of 100,000 m2 (10 hectares) of ample sheltered stores and open ground storage area with Gantry cranes. Inward shipment and outward shipment dispatch services are also available on our client request.
A sheltered TPS / Waste to make sure our working site is clean and safe for our workers and also proper space for recycling compound for segregation of wastes and reusable material.
Bollard Pull Facilities
We also provide bollard pulls facility for bollard test capacity up to 150 tons with certified digital load cell and class approved.
Our strategic location with calm and deep water depth to achieve maximum Bollard Pull results. Our clients have repeatedly doing Bollard Pull test in our yards as they can achieve their expectation Bollard Pull test.